Andaman and Nicobar Islands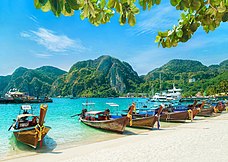 The Andaman and Nicobar Islands is a union territory of India. It consists of 572 islands.The territory's capital is the city of Port Blair. The top sightseeing places in Andaman nicobar islands are Scuba Diving In Andaman, Havelock Island, Radhanagar Beach, Cellular Jail, Snorkeling in Andaman, Ross Island.
For more Information Watch Video-
How can I go to Andaman by flight?
The quickest way to reach Andaman is by boarding a flight from mainland India. Direct flights operate from Kolkata, Bengaluru, Chennai, Hyderabad, Delhi and Vizag. Connecting flights are available from all other destinations around the country. No international ship or flight services exist in Andaman as of now.
Can we go to Andaman by ship?
Tourists who have a desire for adventure and a voyage on sea can plan to take a passenger ship to Port Blair the capital city of Andaman and Nicobar Islands. The ships leave from the Kolkata harbour or port several times a week and reach Andaman in 2-3 days, that means around 65-80 hours of travel by ship.
Can we travel to Andaman By Train?
There is NO Way you can reach Andaman Islands by Train from anywhere in the world. There is a sea in between which has to be crossed by a flight or a ship. At best, you can come by train to the nearest city station from where you have an onward flight to Port Blair.
What is the best mode of transport to reach Andaman?
The quickest way to reach Andaman is by flight. There are direct flights to Andaman from Kolkata, Bangaluru and Chennai approximating at 2.5 hours of travel time. Connecting flights to these destinations are available from most other cities. Flights from Delhi fly via Chennai or Kolkata and take around 5 hours.