Ramanathaswamy Temple
It is a Hindu temple dedicated to the god Shiva located on Rameswaram island in the state of Tamil Nadu, India. The temple has the longest corridor among all Hindu temples in India. It was built by King Muthuramalinga Sethupathiy.
For more information watch video-
1: Rameshwaram Agni theertham Beach
Located at a distance of ~2 km from Rameshwaram Railway Station & just 100 meters away on the beach side of Sri Rameshwaram Temple, Agnitheertham is said to be the place where Rama worshipped Lord Shiva to wash off his sins of killing Ravana.
Agnitheertham is the only theertham sited outside the temple complex.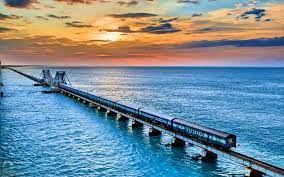 2: Panchmukhi Hanuman Temple Rameshwaram
A small and simple temple but a unique one in India where Lord Hanuman is 5 faced. There is no other temple in India like this. Worth visiting if one is going to Rameshwaram
An attractive thing about the temple is that it has floating stones – of the type that were used to make the bridge to Lanka in the Ramayana.
You can touch them, push them under the water and they come up. They also appear to be of density greater than 1, so its a bit divine to see them float.
3: Nambu Nayaki Amman Temple Rameswaram
Those who don't have children pray Nambu Nayagi Amman and tie a small cradle with baby Doll In the tree in this temple and worship her that "I will put your name if you blessed me with a child". Many children in the Rameswaram island took birth after praying Nambu Nayaki , Hence the name Nambu is majority in Rameswaram.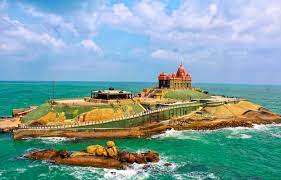 4: Sea World Aquarium Rameshwaram
The Sea World Aquarium is an unmissable attraction, located opposite Rameswaram Bus Stand. It is home to a vast variety of sea creatures like octopus, snake fish, lion fish, rabbit fish, parrot fish, sea lizard, clown fish, crab, lobster, prawn, beach tamet, shark and many more. This interesting venue not only attracts children but also adults, who get intrigued by aquatic species.
How to Reach Rameshwaram by Air?
The nearest airport to Rameshwaram is Madurai Airport, which is around 149 kms from the city. Tuticorin Airport is also located at an distance of 142 kms that happens to be a medium of reaching Rameswaram by air. Buses, cabs and rented taxis can be taken from outside of the airport to reach the city and further more.
How to Reach Rameshwaram by Road?
Rameshwaram is well connected to various parts of the country by road. Regular bus services are regulated by the local transport association to various other cities and places. Rameshwaram can also be reached by car through different routes.
How to Reach Rameshwaram by Rail?
Rameshwaram railway station is the medium through one can reach the city via the rail link. All the major routes are covered by the trains and it is well connected to many parts of the nation