The Goa excise commissioner has issued a show-cause notice to the restaurant owned by Irani's daughter Zoish, for allegedly having an unlawful bar license.
A posh eatery in Assagao, North Goa, owned by Union minister Smriti Irani's daughter Zoish, has made news for the contentious process by which it renewed a liquor license in the name of a long-deceased individual.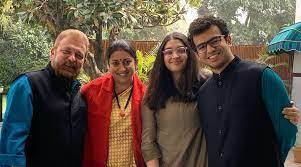 As a result of a complaint made by attorney Aires Rodrigues, who claimed that "fraudulent and false documents were provided" to get the liquor license, Goa's excise commissioner, Narayan M. Gad, issued a show cause notice to Zoish Irani's Silly Souls Cafe and Bar on July 21.
The show cause notice stated, "The licence was renewed last month, despite the license holder having passed away on May 17, 2021."
It was noted that even though Anthony Dgama had passed away the year before, the license renewal application was submitted on June 22, 2022, in his name. According to the excise department, the application "was signed by someone on behalf of the license holder with an undertaking that 'please renew this license for the year 2022-23 and would transfer the aforementioned license within six months'."
The date of the hearing in this case has been set for July 29.
Rodrigues, who obtained the data through an RTI request, stated that he wanted "a comprehensive examination into this colossal scam committed by the government."
The attorney claims that only an existing restaurant is eligible to receive a bar license under Goa's excise requirements. In the case of Silly Souls Cafe and Bar, the excise department broke the law in order to provide the proprietors a license for foreign liquor as well as another one for Indian-made foreign liquor and country liquor in February of last year, even before the upscale shop had a restaurant license to run.
All of the excise applications were submitted in Anthony Dgama's name. His Aadhar card, which was issued in December 2020, lists Vile Parle, Mumbai, as his residence.
The attorney, who dug into the issue for months after receiving a tip, also found Dgama's death certificate at the Municipal Corporation of Mumbai. He now questions.
Even though Goa is a major tourist destination, Silly Souls want to become the "food destination" of Goa, according to Zoish Irani in a YouTube episode with culinary critic Kunal Vijaykar.