You could say that rubbing ice cubes over the skin is a well-known DIY beauty treatment. We have used this method for a while; it is not a new one for us. Due to the humid heat and excessive sweating, summer may be horrible for your skin. There are several ways that ice cubes are good for our skin.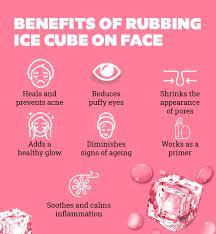 An ice cube is the ideal solution to all your problems, whether you want to keep your skin cold or want your cosmetics to stay on your skin for longer on a hot summer day. It is more effective than pricey products at keeping you radiant and beautiful during this difficult season. Your skin can benefit from an ice cube.
Can you put an ice cube on your face?
It is, yes! After a stressful day, rubbing an ice cube over your face will instantly reduce your stress. Your face becomes more luminous as a result of increased facial blood flow. Cold treatment or cryotherapy are additional terms for applying ice to a bodily part for therapeutic reasons.
When and where should we use ice cubes?
You can massage your jawline, chin, lips, nose, cheeks, neck, and forehead in a circular motion a few times each day.
advantages of applying ice to the face
Our health always benefits from drinking purified water, especially when it comes to our skin. It rids our bodies of all poisons. This benefit also applies to ice cubes because they properly clean our skin.
1. Heals and prevents acne
One of the best properties of ice is anti-inflammatory that helps reduces and heal acne. It calms and soothes inflamed skin and minimizes the size of your pores. It also reduces the excess sebum production that is the main culprit behind acne.
2. Key to glowing skin
We all want glowing and radiant skin. For that, we used numerous expensive products, but we hardly get the best results. Application of ice on the face improves blood circulation to your skin and makes it bright. It also improves oxygen level in the skin and supplies essential nutrients, vitamins.
Additionally, rubbing an ice cube on the face also helps increase the absorption of your skincare products due to the restriction of capillaries.
3. Reduce puffy eyes
Puffy eyes may cause various reasons, but the most common causes are lack of sleep and eye strain. Ice has the quality to reduce swellings and thus makes these swollen bags disappear quickly. Apply ice on the affected areas, and your beautiful eyes will get back in shape. You can add a little bit of black coffee to your ice cube, and you'd notice much faster results.
4. Eliminates dark circles
Applying ice cubes under the eyes can be the best remedy for dark circles. You can boil some rose water and mix cucumber juice in it. Freeze this mixture and then apply the ice cube to your eye area. However, this remedy does not provide you instant results. You need to repeat this procedure for a few days to see results.
5. Diminishes signs of aging
Nobody wants a single wrinkle on their face as it represents your aging. While you cannot reverse your aging, but you can control it. Regularly rubbing ice cubes on the skin is a great way to reduce and prevent signs of aging. It improves blood circulation and helps tighten your skin pores.
6. Calms inflammation
If your skin feels raw, itchy, and inflamed due to excessive sun exposure, allergies, rashes, or even persisting cystic acne, rubbing an ice cube on the affected area can calm your skin. It is a great way to constrict the blood vessels and soothe the inflammation and discomfort in no time.
7. Exfoliate your skin
Ice is the best natural exfoliator that can instantly give you the result. Rub your face with milk ice cubes. Milk contains lactic acid that helps in clearing all the dead skin cells, while the ice cube improves your radiance and natural glow.
8. It increases the absorption of other products
If you rub ice cubes on your face before applying any other skincare products, it can increase the absorption capability of the skin. Other products can reach deeper layers of the skin after it is rubbed with ice cubes.
How to apply ice on the face?
Applying ice cubes directly on the skin can be a little scary as it may cause irritation and is also not recommended. Instead, take about four or five ice cubes in a soft cotton cloth and tie them in. Use this to gently massage in a circular motion for about two minutes twice a day.
Innovative Ideas for Ice Cubes
Ice cubes do not have to be boring. Apart from your regular ice cubes, you can use other types of ice cubes for your skin. These are easy to prepare and have immense benefits for your skin.
1. Aloe Ice Cubes
Get your hands on fresh aloe vera gel and freeze it in your ice cube tray. Aloe vera is a great skincare product and frozen aloe ice cubes leave your skin refreshed and supple.
2. Green Tea Ice Cubes
Brew green tea and instead of consuming it, this time put it in your freezer to make ice cubes. Green tea has antibacterial and antiviral properties and these benefits can be availed when it is applied on the face too.
Ice water Facial:
There are several old-school benefits of ice water to rid your face of puffiness and inflammations. As we have already established that ice water aids in keeping your face firm and glowing, getting yourself an ice water facial at home helps in reducing acne, shrinks pores and dark circles.
Things you need for an ice water facial:
Process:
Take the bowl and fill it with water and add the ice cubs. Now, dunk your face for 10-15 seconds four to five times. As you go on, your skin will feel numb with the cold ice water, but doing this twice or thrice a week will give you effective results. You may also add cucumber slices, rose petals, essential oils like ylang-ylang or lavender, or green tea bags as per your taste.
Benefits of Ice Water Facial:
People who dedicatedly get ice water facials at home have noticed changes in their skin. Some of the benefits of ice water facial are as follows:
Coldwater is effective against shrinking pores. If you suffer from open pores on your face, getting ice water facials regularly will help shrink your pores to give your face a much smoother look.
Helps your makeup stay longer
Most of the Western world and the rest are trying to follow Korean beauty tips and tricks, especially Korean glass skincare and Korean sheer makeup. Most Korean beauty tips include ice water facials. This technique involves dipping your face in ice for 3-4 minutes, dabbing your face dry and then putting on makeup. You will see that your makeup stays on for a longer time.
A lot of people suffer from pigmentations and redness on their faces, especially around the cheek area. Dunk your face and perform the ice water facial to lessen the redness. It will cancel out the redness, making your skin look smoother, younger and flawless.