Social media users taunted the couple when Jenner recently posted an Instagram photo of their personal jets on her account.
Following a recent Instagram post showing off their private jets, reality star Kylie Jenner and her boyfriend Travis Scott have come under fire for "climate crimes." Do you want to take mine or yours? the beauty mogul captioned a black-and-white image of the couple cuddling next to their private jets on an airport tarmac.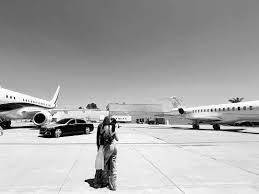 https://www.instagram.com/p/CgDCvEDvUJz/?utm_source=ig_web_button_share_sheet
The image also showed their 4-year-old daughter Stormy Webster and a Rolls Royce. Family members of Jenner's dubbed the image "goals" among her fans. "Decisions, decisions," wrote her mother Kris Jenner.
However, some people blasted Jenner and Scott in the comments for showing off their personal aircraft.
"Why should I avoid eating meat and only drink from paper straws when the one percent gets to emit tonnes of carbon dioxide while taking a day trip to Palm Springs?" read one of the post's most popular comments. Another of the more than 47,000 comments said, "Your waste of gas emissions or mine."
Perhaps take neither and lessen your carbon footprint, said another person.
The mockery spread to Twitter, where user @emily murname posted screenshots of a recent flight taken by Jenner's aircraft and recorded by @CelebJets, a bot account that monitors and tweets celebrity private aviation. According to MapQuest's RoutePlanner tool, the flight takes 42 minutes to complete by vehicle between Camarillo, California, and Van Nuys, California.
Jenner was even referred to as a "full time climate criminal" by one Twitter user. In response, another person tweeted: "Kylie Jenner and Travis Scott need access to 2 private jets at a time in case they need to evacuate again if people get crushed to death." This person brought up Scott's tragic Astroworld Festival incident.
Another Twitter user said, "Kylie Jenner and Travis Scott have to pick what private aircraft they want to take a 20-minute flight on. Capitalism says me I have to do everything I can to save the world yet we only have 8 years to save the world."
As of Thursday afternoon, Jenner and Scott have not responded to the public criticism, and the post is still up. Since then, Jenner hasn't spoken anything more about the image.