Puri is famous for the world famous Jagannath Temple & Longest Golden Beach.
It is one of the Dhama's out of four Dhamas i.e. Puri, Dwarika, Badrinath & Rameswar, in India. Lord Jagannath, Devi Subhadra and elder brother Balabhadra are being worshipped in Puri (The Purusottama Kshetra).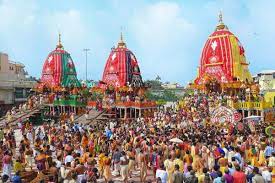 Places to visit in Puri
Puri Beach
The pilgrim town is famous for its golden beaches which forms its eastern boundary. Considered one of the safest beaches in the country, one can find tourists taking to sea and enjoying a leisurely bath.
The beach congregation of people throughout the day except may be in the afternoon.Puri is one of the few destinations which offers spiritual salvation along with the thrill of nature.
The Puri temple is famous for its annual Ratha Yatra, or chariot festival, in which the three principal deities are pulled on huge and elaborately decorated temple cars.
For more information watch video-
Best Time to Visit
Months ranging from October to February are ideal for a visit to Puri as the climate stays cool, pleasant, and soothing during this time.
Places To Visit In Jagannath Puri
Chandrabhaga Beach.
konark Temple/Surya Mandir.
Udaygiri Hills.
Nandankanan Zoo
Chilika Lake.
HOW TO REACH PURI
By Air.
Biju Patnaik airport at Bhubaneswar is the nearest airport, which is nearly 56 km from the heart of the Puri city. The airport is connected to Delhi and Mumbai.
By Train.
Puri is a major railway junction.
By Road.
Puri is connected with the neighbouring cities through well constructed roads.