Darjeeling is a town in India's West Bengal state, in the Himalayan foothills.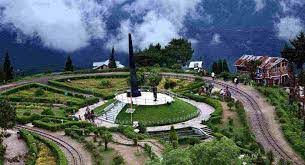 Popularly known as the 'Queen of the Hills' ,Darjeeling is a favored tourist destination, noted for its scenic beauty, ancient forests, quaint houses , friendly people and the mountain panorama that it provides.
For more information watch video-
Tiger Hills: 
The highest point in Darjeeling, Tiger Hill, sits at 8482 meters above sea level and offers panoramic views of Mount Everest, Mount Kanchenjunga, Teesta, Mahananda, Mechi, and Balason rivers. These majestic mountains are famous for their stunning sunset views.
Mall Road:
A popular nightlife spot once used to leisurely strolling area for the British. There are Tibetan food shacks, tea houses, and bars along this road, which offers beautiful views of the mountains. Handmade woolens and Buddha statues can be found here, as well as local handicrafts.
Joey's Pub:
Darjeeling would not be complete without a visit to this British-style pub that resembles an Englishman's cosy home. Darjeeling's oldest pub, it offers great drinks, English food, and a selection of music in the evenings.
How to reach by Air
Bagdogra Airport is the nearest air connection which is 96 kilometres from Darjeeling.Delhi and Kolkata airports are well-connected with international cities across the globe. Once you reach at the airport, you can hire a taxi or share a cab to get to Darjeeling, which will take you around 3 hours.
How to reach by Bus
The regular bus available from Siliguri to Darjeeling is quite slow but economical. Similar bus services are also available from neighbouring towns like Kurseong and Kalimpong which is 31 and 50 kilometres away respectively. Even Gangtok city runs daily buses to Darjeeling; however, we suggest taking a shared cab instead.
Road/Self Drive
The road network in Darjeeling is quite good and one can easily venture out to Darjeeling from nearby cities like Siliguri, Kalimpong and Kurseong. En route, you can also enjoy stunning mountain beauty as well as the green environs.
How to reach by Train
The Darjeeling railway station is administered by the Darjeeling Himalayan Railways. The nearest railway station in Darjeeling is at New Jalpaiguri which connects major Indian cities like Kolkata, Delhi, Guwahati, Chennai, Mumbai, Bangalore and Cochin.
The DHR Toy Train service starts at New Jalpaiguri and get you to Darjeeling at a speed no faster than 30 miles per hour. It takes 7 hours and halts at Batasia Loop from where passengers can take photographic shots of Kanchenjunga.